Text element in website builder WebWave allows you to add to your website any text and enrich it with images, YouTube videos or links. In this article, you will find out how to build a website with your own text.
Add text element to your website
Add text element to your website
A text element can be added through the toolbar on the left side of the builder. All you have to do is drag and drop icon T.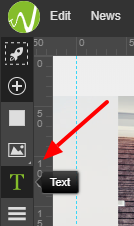 Available text features
You can set any size for a text element. It can have shadows, transparency, and borders. All features explained in this article are accessible through Text edition panel, which can be opened by clicking on any text. 
By double clicking text element, you can change content and its style.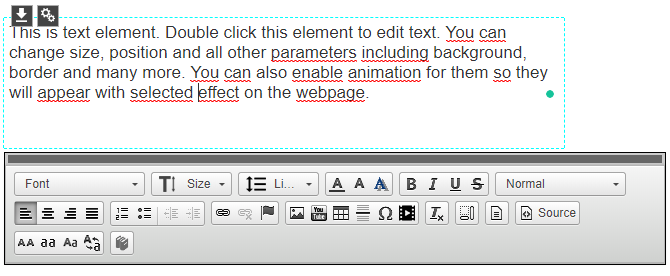 Font name
You can choose a font from the fonts list. If none of them suits your project, you can easily add some more.
Read how to add more fonts to fonts list.
Font size
You can set font height in pixels.
John has a dog.
John has a dog.
John has a dog.
Text color
You can choose a color for letters and characters.
Background color
Set letter's background color. It is not a backround color of the whole element, just letters. 
Text shadow
Set color, size and alignation of text shadow.
Bold
Use this effect if you want some part of your text to be more visible on the website.
Italic
Italic is another way to make your text more visible. It is often used on quotations. 
Underline
Distinguish some text by underlining it.
Strikethrough
This effect comes useful when you need to mark what do you want to be changed in a text. It just crosses the central part of the marked text with a horizontal line.
Formatting styles
Choose text formatting style from a list. If you ever decide to change text color or size on a whole website, you can easily do it by changing the formatting style.
Read more about formatting styles.
Text alignation
The well-known effect of Microsoft Office Word. Allows you to decide how the text will be aligned in the element. You can align text sections differently. Alignment works also for images and videos placed in the text element. 
Align left - align text to the left side of the element. 
Align center - align text so that center of each line is in center of the element.
Align right - align text to the right side of the element.
Justify - align text to the left, then when you add text, the effect will make sure it will be also aligned to the right. It might cause bigger spaces between words.
Numbered list
Create a list which elements will be numbered.
Bulleted list
Whenever you don't feel like creating a numbered list, you can make a bulleted one, each element will start from a big dot. 
Shopping list:
milk

beer

ham

beer

eggs

beer
Indent
If you need a sublist in your list, just increase indent.
one

one a

one b

two

three
Add a link
Make part of your text a link. Choose whether the linked website will open in the same browser window or in a new one.
The user after clicking on a linked text will be redirected to a website of your choice. Set a formatting style for linked objects and every linked text on your website will have the same size, font, and color.
Remove a link
Removes a link from the marked text. Formatting style goes back to the previous one.
Anchor
Add anchor to your website. This element is not visible for users. Set a reference, which will transfer a user to the place in the text where you anchored. Useful when creating a table of content, like the one at the beginning of this article :)
Image
Add to your text an image from the Media library. 
Embede YouTube video
Add to your text any YouTube video. Click on the element, select "Edit style" and in "Video Player settings" set details like autoPlay or size of the video window. 
Table
Add a table to your text and set the number of rows and columns. Remember, you can edit the table at any time. Just right click on it. 
| | |
| --- | --- |
| polish | english |
| ja | me |
| ty | you |
Insert horlizontal line 
Add to your text a horizontal line with a width of the text element.
John has a dog.
---
John has a dog.
---
John has a dog.
Insert special character
From text menu, which opens after you click on text element, insert characters that aren't accessible through the keyboard. 
Insert HTML5 video
Insert to your text any HTML5 video from Media library. Click opens a window where you can set details like autoPlay or size of the video window. 
Remove format 
This option allows you to remove previously added styles. The text will go back to default look.
Show blocks
Shows your website's HTML blocks. They are invisible to users.
Templates
Set a look for your text from a list of templates. It is not the same as website template, read more here.
File source
Shows in a window how text looks as HTML code. You can edit it there as well.
Transform Text to Uppercase
Transforms all marked text to Uppercase.
Transform Text to Lowercase
Transforms all marked text to Lowercase.
Capitalize Text
Changes first letter in each word in a marked text to Uppercase and rest of them to Lowercase.
Transform Text Switcher
Each click changes marked text to one of three previously described options:
first click - Uppercase
second click - Lowercase
third click - Capitalize
forth click - Uppercase
etc.
Media library
Opens the Media library.