In this article, you will learn how to connect a domain purchased from a third party. Of course to connect any domain, first step is to buy Premium Plan. After that, follow the steps below:
1) Open domain settings popup
Go to your Webmaster's panel and click "Set your own address".

2) Type in your domain name
In the "Connect domain" box enter your domain name address. Then click "Add".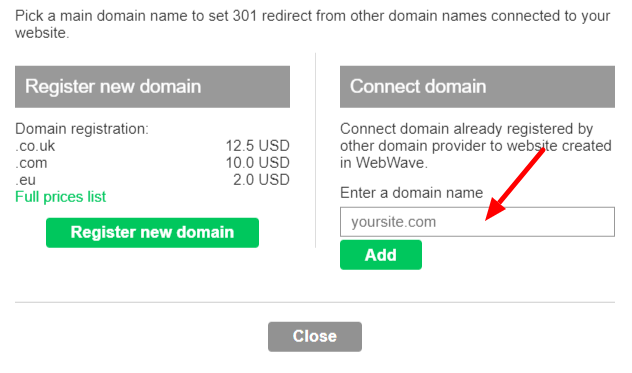 Important thing to remember: If you add your domain e.g. YourDomain.com, there is no need to add www to YourDomain.com either. WebWave treats these two addresses as the same ones. You can add just one  and both of them will work correctly. Don't forget to select one address (with 'www' or without 'www') as the main one, as it has a huge impact on SEO (read more).
 
3) Redirect your Domain name to WebWave servers
The last thing you need to do is to redirect your domain name to WebWave DNS servers. To do this, log in to the admin panel of your domain reseller. There are hundreds of different domain resellers out there and the process of domain name configuration  differs greatly. If you have any problem with redirecting your domain name, please contact your reseller technical support for help.
3a) Redirect your website and mailboxes to WebWave (Do not use 2 methods at the same time)
To redirect both your website and mailboxes to WebWave's servers, you need to set the DNS of your domain name on ours:
ns1.webwavecms.com
ns2.webwavecms.com
Important: This is the preferred method to redirect your domain name since it's much more stable than the second method
3b) Redirect your website to WebWave but leave the mailboxes on the other server (Do not use 2 methods at the same time)
Go to your resellers' domain name settings panel and redirect the www and non-www A records to:
If you're based in Europe or Asia:  79.133.210.186
If you are based in Australia, New Zealand or the Oceania: 139.99.238.31
If you are based in East of North America: 45.79.147.190
If you are based in West of North America or in South America: 45.56.81.89
If you want to keep mailbox on another server, remember not to change MX record (which is responsible for mailbox).
Important thing to take into account: Use this method only if you are absolutely conscious of what you're doing, as redirecting your domain name to A records instead of redirecting it to DNS might result in higher downtime of your website. You can always see the availability status here: https://status.webwave.me
Having some problems?
If you face any difficulties, contact us over online chat in the bottom right corner of the builder - we'd be happy to help! :)