Add to shop cart button is a key element in every online store. This element allows customers to purchase many of your products.
Add a product
1. Select "Add to shop cart" button from the toolbar on the left side of the builder.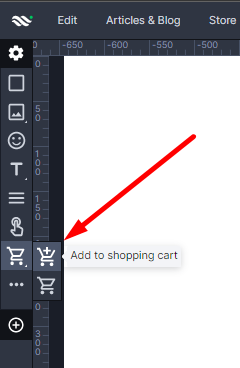 2. Enter the product name, price, description, thumbnail, you can also send a message after purchase. When you click on more options, you can add and manage variants.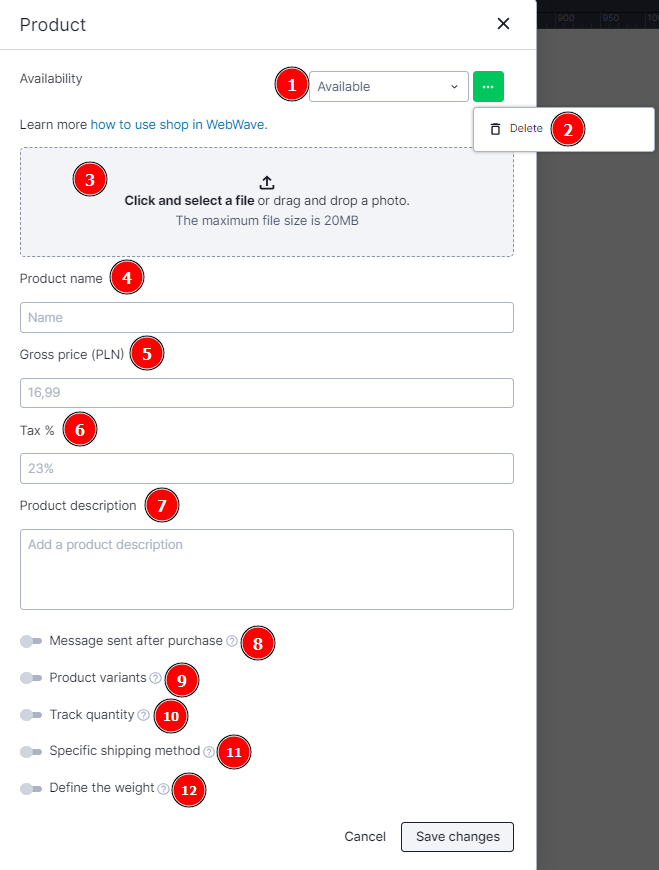 Availability - set the availability of your product in stock.
Delete - button that allows you to delete the product.
Thumbnail - optionally, you can add a thumbnail of your product, which will be displayed in the cart. preview, the 3rd step of your order and in the sent order summary email.
Product name - define the name of your product, which will be displayed during ordering. 
Gross price - assign the price of the product.
TAX % - if a different vat is applicable for the service/product, enter it here.
Product description - add a description of your product, which will be displayed in the 3rd step of the order under the product name. 
Message sent after purchase - in this step you can add an additional message to the customer, which will appear in the order summary email sent, e.g. a link to a digital product.
Product variations - adding product variations allows us to sell one product in different sizes or colors without having to create a separate article for each variation
Track quantity - set the quantity of the product in your inventory. 
Specify shipping method - select a shipping method for your product, this feature allows you to sell digital products as well as physical products on one page. 
Specify weight - specify the weight of your product so that the customer can choose the appropriate shipping method depending on the weight.
Edit existing product
1. Select a button, which is assigned to the product.
 
2. In Settings Panel go to "Edit product".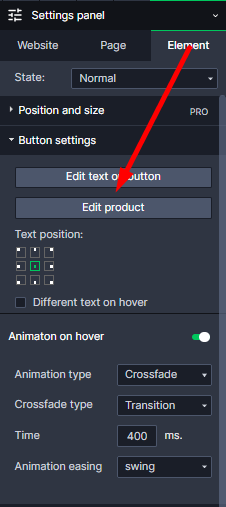 Edit button style
Add to shop cart button has exactly the same features as a regular button. If you still don't know how to edit it, read an article on button element in WebWave.