Website builder WebWave CMS allows you to secure chosen subpages. You can lock webpage with password on the webpage, or create a webpages only for logged in users.
Publish website for "Logged in only".
In order to give  access to a subpage to signed in users only, in the Settings Panel enter Webpage settings and go to Publication settings. Change availability to "Only logged".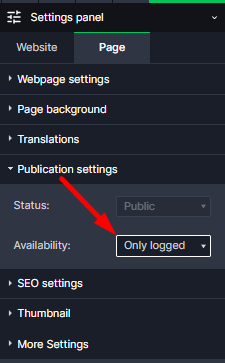 If a user who isn't signed in tries to access this subpage, a Login window will be displayed.
If you want to allow users to sign in/sign out and create accounts on your website, use a Login element (read more).