The Robots.txt file reports the information to indexing robots on which pages and files on your website they have to index. It is used mainly in order the website not to be overloaded by requests and helps manage the website's traffic. It is used to exclude webpage or file from Google indexing.
How to edit Robots.txt file
1. Go to the SEO Settings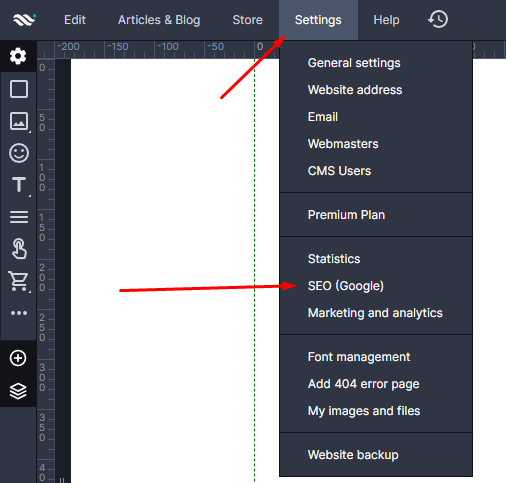 2. Then go the "Robots.txt" tab.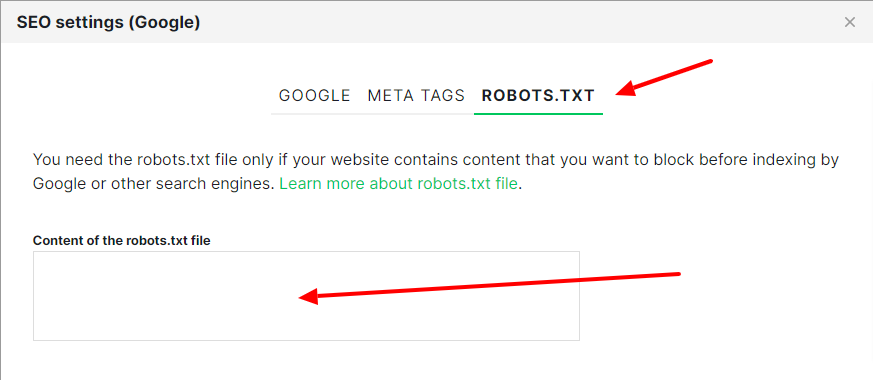 3. Enter your code to the field "Content of the robots.txt file"
Exemplary commands 
User-agent: *
The code that specifies the indexing robots and the content to be indexed. * Mark means that all the indexing robots will be blocked, but the very use of googlebot would mean that only the Google indexing robots will be blocked.
Disallow: /gallery
Exclusion of the gallery subpage from indexing.
Disallow: /lib/jieq5l/IMG_1898-k2z3myc6.jpeg
Exclusion from indexing of a file uploaded to media library. The exact file path one may find under the miniature in "My images and files" in "Settings".