What do I have to do to see my website online?
In fact, it is very easy. All you have to do is to click on the "Publish" button on the top right corner of the builder.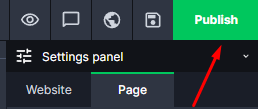 As soon as your website is published, you will see the  window with its site address. 
Remember: you can change your site address by subscribing to Premium Plan.