In WebWave you can set a domain for your free website which doesn't have an active Premium Plan. This way, whenever you need to show to your customer a project, you can send a professional link like https://customername.agency.com. To do that, all you need to do is to connect your agency domain name. To do that, follow these steps:
1) Add an Agency domain name
In your Webmaster's panel extend "Freelancers and agencies" tab in the bar to the right:

Important! If you've bought your domain name at a 3d party reseller, you will have to redirect that domain name to WebWave's DNS servers. You can learn here how to do that here.
ns1.webwavecms.com
ns2.webwavecms.com
If you still face any difficulties, contact us over online chat in the bottom right corner of the builder - we'd be happy to help! :)
2) Open your websites address settings popup
Click "set your own address" next to the website, if you want to set your own address.

3) Change the subdomain prefix
In the Website Address settings popup click "change" next to your domain name.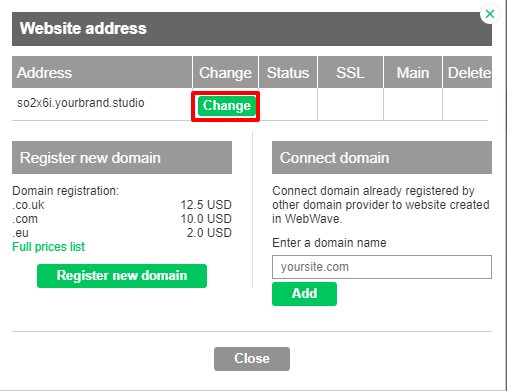 4) Change the prefix 
Change your subdomain prefix and press save
5) Use your new domain name
Now you can present your project to the client under professional site address: