Favicon is an icon which is displayed on the browser tab. In this article you will learn how to build a website with your own favicon.

In order to add a favicon to your website created in website builder WebWave,  select in the Settings panel "Website" section.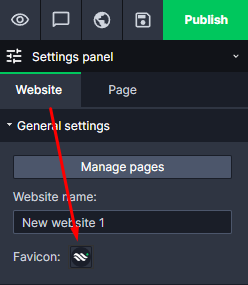 Keep in mind that favicon is squared and if you add a rectangular graphics, it will get deformed.
It's good to know, that icons with transparent background are good-looking and the best for a Favicon.
You can set transparent background, saving favicon as .png file.
Favicons are used by PWA.
WebWave automatically generates icons in proper sizes.