In website builder WebWave you can set default parameters for all basic text styles. What's more, you can add your own styles.
Available default text styles:
Regular
Regular text

Header 1

Header 2

Header 3

Header 4

Headers h1,h2,h3,h4. 
Link
Default links style on a website
Link Hover
Default links style on a website after hover
Header slider
Default header style on a website in sliders
Header gallery
Default header style on a website in galleries
Regular white
Regular text in white
Header newsfeed
Default header style on a website in newsfeeds
Date newsfeed
Default date style on a website in newsfeeds
Button
Default font style on a button 
Change text style
Any text style can be freely modified so, for example, you won't have to change the color of every new link on your website. All you have to do is set default links color. To modify a text style, enter website builder WebWave and in Settings panel go to Website and Text styles.  
What's more, if you ever decide to change for example color of default text on your website, with styles you won't have to do it by hand. All you need to do is enter the Settings Panel and in Text Styles change text color. Changes will automatically apply.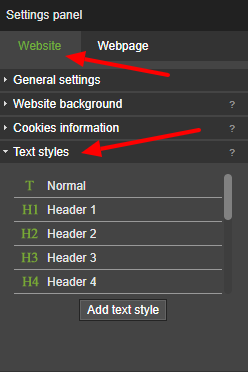 Add a new text style
To add a new text style, go to Settings Panel, enter Website and in "Text Styles" select "Add text style".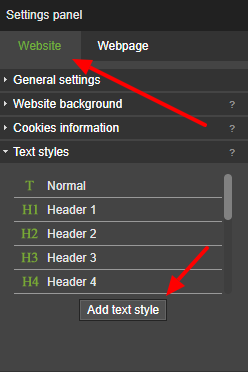 When you enter a name of a new style, you will see a text editor where you can set style parameters. When you are done, save changes in the Settings Panel.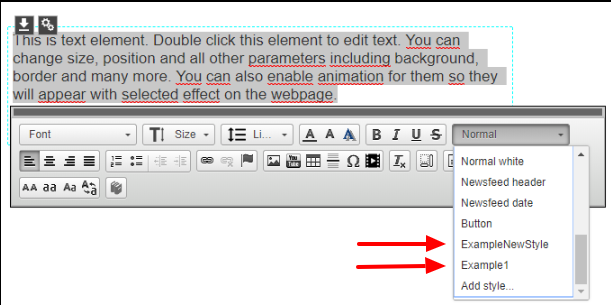 Small WYSIWYG editor

Change RWD view
In this window, you can switch between RWD views - on which screen (Desktop, Tablet, Mobile) do you want to work on your project.
Font name
You can choose a font from the fonts list. If none of them suits your project, you can easily add some more.
Read how to add more fonts to fonts list.
Text size
You can set font height in pixels.
John has a dog.
John has a dog.
John has a dog.
Lines height
You can set spaces between lines in a text.
Text color, background color, and shadow
Text color
You can choose a color for letters and characters.
Background color
Set letter's background color. It is not a background color of the whole element, just letters.
Text shadow
Set color, size and alignment of text shadow.
Font style 
Bold
Use this effect if you want some part of your text to be more visible on the website.
Italic
Italic is another way to make your text more visible. It is often used on quotations. 
Underline
Distinguish some text by underlining it.
Strikethrough
This effect comes useful when you need to mark what do you want to be changed in a text. It just crosses the central part of the marked text with a horizontal line.
Text Alignment
The well-known effect of Microsoft Office Word. Allows you to decide how the text will be aligned in the element. You can align text sections differently. Alignment works also for images and videos placed in the text element. 
Align left - align text to the left side of the element. 
Align center - align text so that center of each line is in center of the element.
Align right - align text to the right side of the element.
Justify - align text to the left, then when you add text, the effect will make sure it will be also aligned to the right. It might cause bigger spaces between words.
Spaces between paragraphs 
Set a size of the spaces between paragraphs. 
Text transformations
Transform Text to Uppercase - Transforms all marked text to Uppercase.
Transform Text to Lowercase - Transforms all marked text to Lowercase.
Capitalize Text - Changes first letter in each word in a marked text to Uppercase and rest of them to Lowercase.
Transform Text Switcher -Each click changes marked text to one of three previously described options:

first click - Uppercase, second click - Lowercase, third click - Capitalize, forth click - Uppercase etc.
Remove formatting
This button removes formatting and brings back a default style..